Bain
Avez-vous déjà souhaité vous baigner dans de la marijuana sur tout votre corps ? Vous pouvez tremper tout votre corps dans les effets analgésiques et relaxants de l'huile de cannabis ou d'une bombe de bain ajoutée à votre bain déjà relaxant. GG4 propose des articles de bain au cannabis de haute qualité.
Afficher les filtres
Afficher tous les 4 résultats
Afficher tous les 4 résultats
Prendre un bain infusé au cannabis
Il existe plusieurs méthodes pour incorporer du cannabis à l'heure du bain. Vous pouvez emporter votre pipe avec vous dans la baignoire et vous allumer tout en vous relaxant dans l'eau fumante et en écoutant de la musique.
L'heure du bain devient encore plus amusante lorsque vous utilisez des bombes de bain au cannabis. Si vous voulez une expérience véritablement transcendantale, essayez une bombe de bain au cannabis. Les bombes de bain sont utilisées depuis des années comme option de soins personnels, car elles sont amusantes à utiliser et offrent généralement une aromathérapie relaxante.
Imaginez que vous vous enfoncez dans un bain fumant après avoir laissé tomber une bombe de bain et pris une profonde inspiration. Mais avec les effets apaisants du THC ajoutés. Les bombes de bain au cannabis sont censées offrir une relaxation complète au corps de l'utilisateur, mais elles ne sont pas souvent destinées à faire planer les gens.
Cependant, nous avons entendu plusieurs récits de personnes qui disent s'être défoncées en utilisant une bombe de bain au cannabis. Cela peut être causé par divers facteurs, notamment la chimie corporelle de l'utilisateur, le type de produit utilisé et la quantité utilisée. Quelle que soit la façon dont vous souhaitez profiter pleinement de votre expérience, nous vous recommandons d'apporter un joint dans la baignoire avec vous.
Cannabis-Infused Bath Topical Guide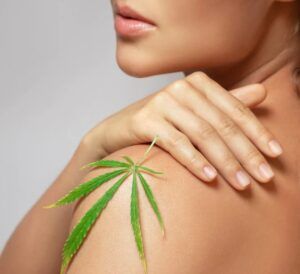 Do you want the calming, therapeutic effects of cannabis? With GG4.Store, these benefits are easier than ever to access! Our products contain marijuana oil or bath bombs that will soothe your ailing body and provide an indulgent bathing experience. Don't hesitate – let yourself drift into serenity with our top-notch cannabis-infused goods.
If you're in search of an enjoyable and tranquil experience, CDB bath bombs are the ultimate way to unwind with cannabis. GG4.Store weed delivery makes it easier than ever for those aged 19 and up to receive the highest-quality CBD bath product. In this article, we will explore all the wonderful advantages of using these infused bathing products as well as how to make them yourself!
In recent years, CDB has risen in popularity and its products have become increasingly sought after. Nowhere is this more evident than with the growing trend of CBD bath bombs – everyone from casual users to industry experts agree that a hot soak enriched with one's favorite cannabidiol product can be truly invigorating.
What are Cannabis-Infused Bath Products?
Our bath products are easy to use. You just pour them into your bathtub. We have CDB, THC, and combined-infused bath bombs, salts and oils. If you're nineteen or older, you can order the most relaxing marijuana-infused bath products from GG4.Store cannabis delivery! Relax and spoil yourself with top quality cannabis items delivered directly to your door.
Cannabis Bath Salts
Cannabis bath salts are a cheaper alternative to store-bought products. You can pick what ingredients you want. Cannabis bath salts are good for treating small injuries and they can do more too.
Cannabis is legal in more places now, so people are using it to make health and wellness products. You can find a lot of different options, like lotions, creams, and balms. You don't have to smoke cannabis to use these products. Try something new today!
If you live in a state that allows cannabis, you can find full-spectrum bath salts at almost any dispensary. Order cannabis bath products at our Toronto's best online dispensary. If not, don't worry – you can still find CBD-fortified bath salts wherever hemp-based CDB oils are available. Look for them in smoke shops and other places. They will be prominently displayed for anyone wanting to relax with an elegant soak.
Although cannabis bath salts may be more expensive than regular bath salts, they are worth the cost because they are very good at relieving stress and pain. It's like taking a luxurious epsom salt soak with additional benefits!
What is CBD Bath Soap?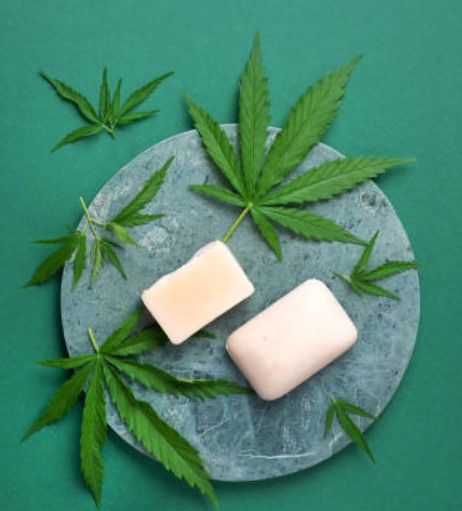 THC and/or CBD-infused bath salts can help cleanse your body and offer other advantages. These cannabinoids are absorbed through the skin into the CB2 receptors in your system, which starts a chain of reactions that activate the endocannabinoid system. This gives you many health benefits!
Cannabis-infused baths can help reduce stress, relax your muscles and provide relief from pain. They might also be helpful for people with allergies or autoimmune conditions such as inflammatory bowel disease or arthritis.
Enjoy a soothing and luxurious soak in cannabis-infused water for optimal relaxation. Not only does it help relieve common skin conditions like eczema and dandruff, but also menstrual cramps or headaches too! Plus – this hydrating bath doesn't just make you look younger, but improves your blood flow and elasticity as well! With the perfect blend of natural healing properties from both cannabis and water, treat yourself to some ultimate rejuvenation today.
What is CBD Soap?
Refresh and recharge yourself with the grandeur of our CBD soaps. Infused with hemp extract, plant oils & butters, plus enjoy a soothingly delightful aroma from natural essential oils. Not only are these products vegan-friendly and animal cruelty-free – they also provide you relaxation after a long day yet an energetic lift! People have started to switch from classic baths to CDB soap as it presents numerous advantages over other options.
CBD is a remarkable topical treatment made from hemp plants in the United States. Not only does it help moisturize dry skin, but also control redness and inflammation as well as reduce sebaceous gland activity for more balanced and better-looking skin! At GG4.Store, we are delighted to provide mail order marijuana and same day delivery services in Toronto and throughout Canada – including British Columbia, Alberta, Saskatchewan, Manitoba and beyond. For those seeking unparalleled convenience when it comes to getting their favorite cannabis products delivered right to their doorstep without any hassle or worry about safety concerns; our mail order marijuana system is the way to go!
Moreover, its calming effects can provide relief from anxiety – making CBD an ideal self-care product to have on hand!
Our Bath & Body Collection has lots of different CDB products. This means there are lots of different ways to get the luxurious experience and relaxation you deserve. You can try out different products like bar soaps, shampoo, or bath bombs. Each one has different benefits, like smelling good or helping you feel better. So don't wait any longer; explore our collection today and discover which product is ideal for your needs!
How Can CBD Soap Help Your Self-Care Routine?
CBD-infused soap not only benefits your skin and body, but there are additional breakthroughs in the works. Natural soaps contain minerals, vitamins and compounds to ensure optimal human health. Reports have already indicated that CBD helps combat acne and inflammation while reducing wrinkles too! There is still more research being conducted on how else this powerful ingredient can help promote better skin care, however scientists are resolute on its current advantages.
Discover the wonders of CDB and plant-based soaps! Aromatherapy has been scientifically shown to enhance sleep, reduce pain, and create a feeling of overall comfort. Take advantage of these amazing products today – your body will thank you for it!
This luxurious bath product is perfect when you need some time to relax. The unique blend of plant-based products, cannabidiol and aromatherapy will make you feel like you're in heaven! It's also a great way to take care of yourself every day. So when life gets overwhelming, make sure to grab this special indulgence for some well deserved pampering and relaxation!
Why are CBD Bath Bombs so popular?
CBD-infused bath bombs are a unique experience that can help relieve pain and promote overall well being. The calming aromatics of lavender, chamomile and eucalyptus combine with CBD's natural pain-relieving benefits to create a powerful mixture that is appealing to people suffering from chronic pain as well as those interested in overall wellbeing.
CBD is a substance that has become popular for its health benefits. It is now being used in beauty products like oils, salts and bombs. This is a good way to help people take care of themselves in a holistic way.
The Skin Benefits of CBD
Cannabis topicals are arriving in stores. This will be another way for patients to address localized pain and improve skin conditions, such as psoriasis and dermatitis. In addition to providing relaxation and pain relief, CBD pain products also promote healthy-looking skin and could also potentially have anti-ageing effects.
Will Cannabis-Infused Bath Products Produce a High?
No, bath products that contain THC will not make you feel "high." To produce those types of effects on your body, THC must penetrate your skin and get into your bloodstream.
CBD is a good choice for people who want to feel better without taking medicine. It works with many CB2 receptors in our bodies to help us relax and feel less pain.
What does CBD Feel Like?
CBD is absorbed by the skin quickly and efficiently. Adding essential oils such as mint or camphor to CBD can help reduce discomfort immediately. Lavender may also help decrease inflammation while enhancing CBD's calming effects.
Although it may take upwards of 30 minutes for CDB to reach its full potential, utilizing CBD-infused bath products can detoxify and hydrate skin while potentially helping to restore the natural oil balance. This makes these types of products suitable for those with both dry and oily complexions alike.
CBD bath products can help you feel better for several hours. They work best when used with other forms of CBD, like tincture or vaporizer. If you have a spot that hurts, you can use a CBD topical there too.
When buying hemp products, it is important to buy from a company that you can trust. Look for brands that tell you where they get their hemp and how they make their products – the more they tell you, the better! This will help ensure that you are calm and happy with your purchase.
Before you buy anything from a particular CBD brand, look into whether or not they have a good reputation.  Buy the best CBD-infused bath salts at GG4.Store online cannabis store. You can do this by finding out if they have gotten any warning letters from the FDA. The FDA does not guarantee that all CBD products are effective and safe, but they will send out warning letters to brands that are not following the rules.
What Can CBD Bath Products Help With?
By uniting the relaxation of a hot bath with the healing properties of CDB, you can cultivate cumulative well-being and experience enduring tranquility. Cannabis-infused bath products are celebrated for their therapeutic advantages and have been seen to help with a range of medical issues, including: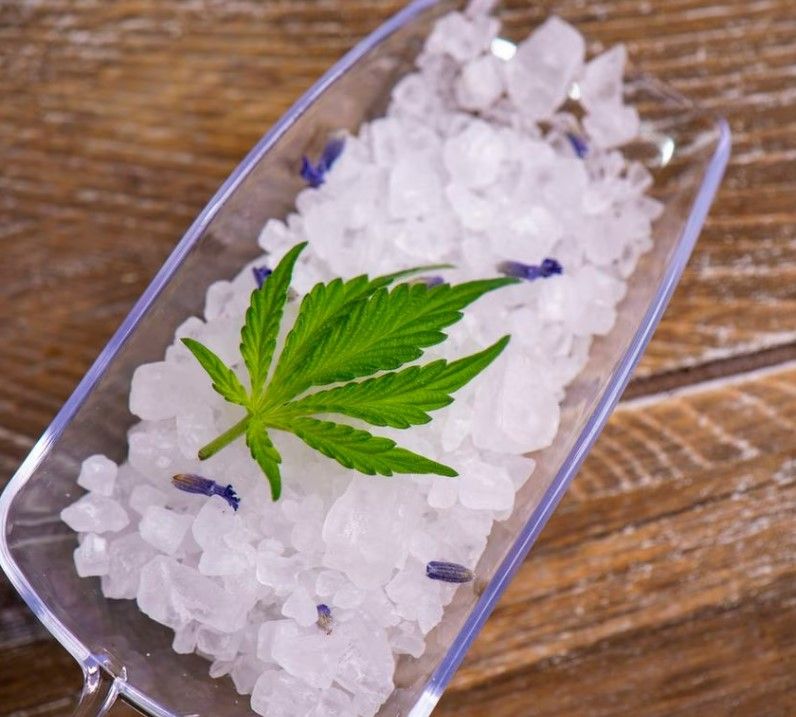 Localized pain relief
Menstrual cramps
Arthritic joints
Muscle aches and soreness
Mal au dos
Stress
Psoriasis
Itching
How to use CBD bath bombs
CBD (cannabidiol) bath bombs are a popular way to relax and unwind while also reaping the benefits of CBD. If you are new to using CBD bath bombs, here are some steps to follow:
Prepare Your Bath: Before using a CBD bath bomb, start by filling your bathtub with warm water. Make sure the water is at a comfortable temperature.
Drop in the CBD Bath Bomb: Once your bath is ready, unwrap the CBD bath bomb and drop it into the water. The bath bomb will start to fizz and release the CBD and other ingredients into the water.
Soak in the Bath: Get into the bath and soak for at least 20-30 minutes to allow the CBD and other ingredients to absorb into your skin. You can also use the time to relax and unwind, read a book, listen to music, or meditate.
Rinse Off: After you are done soaking, rinse off with clean water to remove any excess ingredients from your skin.
Pat Dry: After you have rinsed off, pat yourself dry with a towel. Avoid rubbing your skin, as this can irritate it.
CBD bath bombs are easy to use and can provide a relaxing and rejuvenating experience. However, it's important to note that the effects of CDB bath bombs can vary from person to person, and it's always a good idea to consult with a doctor before trying CBD if you have any medical conditions or are taking any medications.
It's also important to follow the manufacturer's instructions and store your CBD bath bombs in a cool, dry place to maintain their effectiveness. Get the highest quality CBD bath bombs today at Toronto's online cannabis dispensary. Shop now to experience true relaxation and relief!
Safety and side effects
Although the World Health Organization has declared that CBD is generally safe, consumers should be aware of potential side effects. These include:
fatigue
diarrhea
changes in appetite
changes in weight
Before trying CBD, be sure to speak with your physician or health care provider. This is especially important if you are taking any medications as there may be potential interactions that could lead to adverse effects. Taking the necessary precautionary steps will enable you to enjoy all of the benefits of CBD safely and healthily!
When trying a new product, check the ingredients first. Some people are allergic to certain things. Be careful with essential oils. They might make your skin sensitive. If you're worried that a CBD bath bomb could hurt your vagina or urethra, it's best to use products that have been tested by dermatologists and don't have any fragrances. This will help keep you safe.
How to Choose the Best CBD Bath Product
CBD-infused bath products offer a lot of choices, from luxurious CBD bath bombs to lose CBD salts. By adding these items to a warm soak and letting the skin absorb them, users can experience whole body relief provided by cannabidiol. With many different aromas available, many products unite cannabidiol with restorative essential oils and minerals for even greater effects! Furthermore, combining magnesium and high-quality salt in hot baths can be a potent combination for soothing sore muscles. Treat yourself to luxurious relaxation with CBD bath products from online cannabis dispensary with same day delivery. Each CBD product is an oasis of serenity that helps to create truly blissful moments. Through the power of CBD, each product offers unparalleled comfort and solace.
How to shop for CBD bath bombs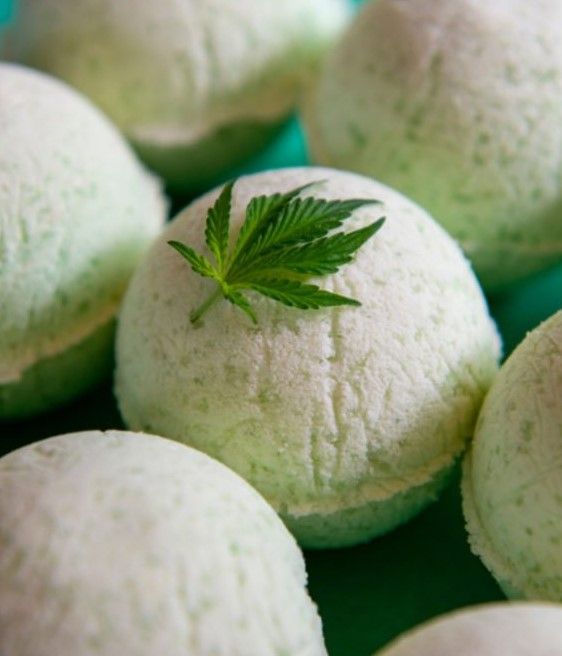 To make sure that you're investing in a safe and dependable product, it's prudent to look for one with an up-to-date and comprehensive Certificate of Analysis (COA) from a credible third-party lab. A valid COA should provide the following information at minimum:
The amount of CDB in the product: Make sure that it is the same as what is written on the label.
Adhering to all regulations, the THC content of our products is strictly limited and never exceeds 0.3%, ensuring a safe and legally compliant consumer experience.
A Certificate of Analysis (COA) may be supplied for each product batch, or possibly only one COA sample with the date that it was tested noted.
To guarantee the quality of our product, we conduct rigorous testing for potential contaminants such as heavy metals, pesticides and molds. Order cannabis to try the best cannabis bath products at our Toronto's best online dispensary. Furthermore, if a solvent-based extraction process was used to make this item, then additional tests should be conducted to detect solvents.
CBD Bath Products by Trusted Reviews
At GG4.Store, we have a rigorous process before allowing any brand. Additionally, our CBD advocates exhaustively analyze each and every one of the CBD bath products and construct in-depth reviews to provide an assessment that is based on their findings.
Where to Buy CBD Bath Products?
If you are looking for CBD bath products to improve your skincare and wellbeing, then let our reviews guide you in choosing from the best options available. Alternatively, explore our other approved CBD products to build a complete routine that addresses discomfort with various approaches.
FAQ
Will a CBD bath bomb show up on a drug test?
At Joy, we strive to ensure your safety and satisfaction by using third-party labs to guarantee that our CBD bath bombs contain low or no THC levels. While an unlikely outcome from using these cannabidiol products, it is still possible for a drug test result to come back positive. That's why here at Joy we are committed to providing you with the highest quality of assurance in all of our products!
Are CBD bath bombs good for pain relief?
CBD bath bombs are typically meant to relax and unwind, not as a part of regular CBD routine. However, like other topical products formulated with cannabidiol (CBD), they can still be useful in reducing pain symptoms. If you would like to get the best results from CBD, it is recommended that you use specialized topicals such as creams or balms; or take CBD orally through capsules or oil drops.
How often can you safely use CBD bath bombs?
While using CDB bath bombs, it is best to keep your soak-time limited to 15 minutes or less; this will help ensure that you don't experience any adverse skin reactions. Nonetheless, if your complexion demonstrates no signs of discomfort with the product then feel free to use it as often as desired! It is essential that you remember how individualized skincare can be and take necessary precautions depending on what works for you specifically.