The White Gorilla, often known as "White Glue" and "White Gorilla Glue," is a strong indica-dominant hybride marijuana souche created by crossing White Fire Alien OG with Gorilla Glue. White Gorilla has a THC concentration of 18% and creates relaxing, euphoric effects that relax tired muscles and elevate the mind. The White Gorilla cannabis strain is a hardy indica with diesel, chocolate, and floral undertones. Patients use White Gorilla to alleviate symptoms of stress and anxiety. This plant develops sticky dense nugs with icy green foliage and brown curly hairs throughout the growth cycle. Greenlife created this strain originally. You can buy this product in our boutique.
About White Gorilla
This gorilla has nothing on this ape. Greenlife Seeds' White Gorilla is a strong strain that mixes Gorilla Glue #4 with White Fire Alien OG, commonly known as Wifi Alien OG, for a chocolate-kissed indica-dominant hybrid that relaxes while uplifting you. It seems impossible, but we assure you, it's true.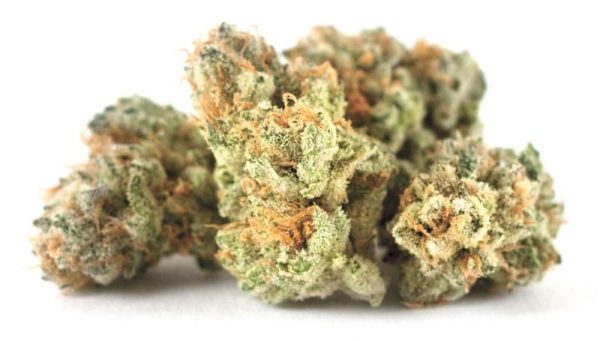 Expect to be stunned by a large amount of THC, which can reach up to 25%. These dark green nuggets are rich with chocolate and woodsmoke. This exquisite flavor profile lends itself to the tongue beautifully, with an even deeper chocolate funk and sweetness on the pallet. The scent of this slow-burning bud is even more appealing when it hangs in the air for a while.
The White Gorilla is as intriguing as its flavors, indica-forward and relaxing with smooth waves of euphoria that surge forth from the start. For hours, the tranquil ebbs and flows, letting you ease into your haut. This long-lasting buzz starts in the core and works its way up to the limbs before returning to the core. The artist seeking to begin a new project or social butterfly who enjoys being part of a group smoke would benefit from this phase. The comedown is rapid, leaving you feeling rejuvenated and pleased.
This strain is quite relaxing and has been known to help with a variety of ailments, including muscular spasms, chronic pain, migraines, and tightness. This is due in part to the sedative effects as well as its supposed CDB content. Try this strain if you're experiencing symptoms of depression, bipolar disorder, stress, social anxiety, or even minor instances of PTSD. It has the potential to improve your mood and boost your energy levels in your favor. The mind-clearing properties of this cannabis make it ideal for soothing frayed nerves.
This large crop is generally ready around the 8 to 9-week mark and is an excellent plant for anyone looking to advance from beginning to moderate growing expertise. This chocolate bush has a lovely fragrance and is ideal for any indoor system, but it will flourish either in or out. In most situations, the harvest will be above average.
The first thing you notice when smoking White Gorilla is its lovely sweet scent. The high from this indica-dominant hybrid strain has a pleasant, cerebral quality that makes it ideal for nighttime or evening use. However, before you get there, take pleasure in how this sociable bud reduces your stress levels and leaves you refreshed and creative for hours. As you fall asleep, your joy fades into nothingness.
The White Gorilla variety is lime green and orange with a lot of pistils. Its high trichome production gives it a moss-like appearance, with white patches in areas of high trichome concentrations. The light-green leaves are convoluted and densely packed.
The White Gorilla has a strong gasoline, skunk, and pine odor with undertones of chocolate. The smoky or vapable White Gorilla enhances its chocolate flavor and mixes it in with a lemon-pine cleanser taste.
The White Gorilla is a large-seller for Gami, although it takes about five minutes to fully settle in. A puff-puff-wait technique may be useful for smoking or vaping it. THC levels in the mid to high 20s are reported for the White Gorilla. According to users, the apparently relaxing stone relieves tension in the muscles and lightens mood while slowing down thoughts. Some customers claim that using it made them feel happier and more hungry, while others stated that it helped with chronic pain, headaches, and muscular spasms. Overall, it provides a pleasant and energizing high that consumers find can boost spirits and improve mood.
Psychoactive Combination
The White Gorilla of BSF Seeds is a pure indica strain with a high resin producing ability. It's the result of an excellent mix of two amazing strains, including Gorilla Glue #4 and White Widow. This strain has significant psychotropic effects due to its THC concentration of 25 percent.
Growing and Heavy Yields
White Gorilla is both an indoor and outdoor plant. White Gorilla excels in the production of robust and vigorous specimens that are resistant to a variety of stresses and pests when grown indoors. After about 60 days, the yield ranges from 400 to 500 grams per m2. Outdoor cultivation, on the other hand, offers the greatest possible productive output, which is 1 kg per plant. It's best to harvest in the middle or late of March.
Intense Flavors and Effects
The taste and fragrance of White Gorilla are earthy, with pine undertones, as well as citrus and sweet notes. The high amount of THC in it explains why it has such a strong and long-lasting influence. It creates a fantastic calm that is ideal for individuals who suffer from sleeplessness or stress over time.