With some vegan cannabutter, these epic vegan cannabis cookies were taken up a notch!
Note: Please follow your local laws on cannabis/marijuana consumption. Do not drive while under the influence, and please consume responsibly!
It's been a while since I've written anything on this blog, but given that marijuana is now legal in Canada, there were some experimenting and retesting of fat ratios and low-key worry that I was doing something illegal because the legalization of cannabis is still fairly new in Canada. But after thinking about it for a long time, I decided it was about time (heh heh… heh) to offer a delectable option for anybody who wishes to produce their own vegan cannabutter or edibles at home.A huge shout-out to Katarina from Dolled Up Desserts, who is the brains behind all of this because honestly, I have very little expertise with marijuana since I was a goody-two-shoes until last year when it came to weed.
Katarina's explanation of the baking science and legality of vegan edibles was very informative, and I'm grateful she showed me how to make them. This is a delicious way to enjoy weed, especially for people who don't want to smoke it. As a musician, I worry about damaging my lungs with smoking weed, even though I know it probably wouldn't be a problem.
Either way, I much prefer eating it.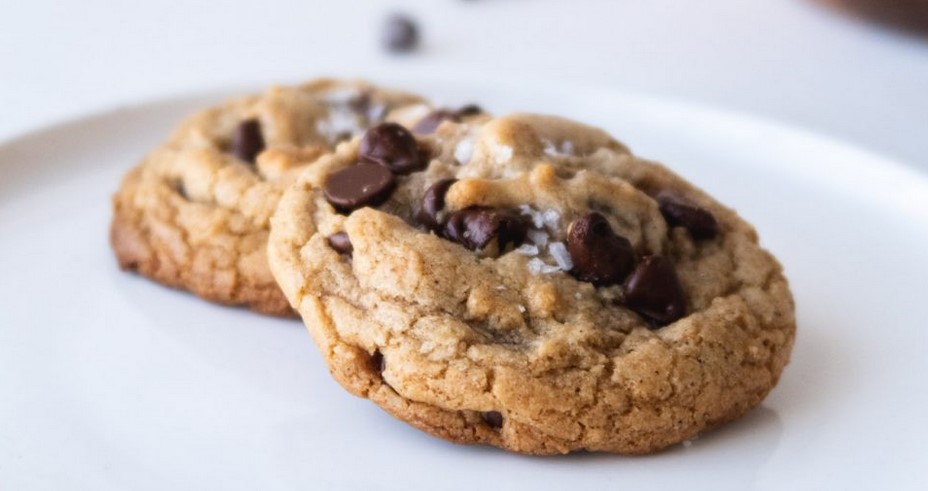 When it comes to calculating the recipe for these cannabis cookies, there was a lot of math involved, but the legal amount for edibles is 10 mg per serving. For us, that turned out to be roughly .32 grams of cannabis in this entire batch of cookies, however we have previously produced stronger batches. So long as you don't sell or distribute it, you should be OK. We found this figure by dividing 32 cookies into 10 mg of marijuana per cookie, so I'd need 10 mg x 32, or 0.32 g of cannabis. For this recipe, we used 50 g of coconut oil and 1 vegan butter (more if you're sensitive), so we infused the 50 g with 0.32 g of marijuana. Depending on your sensitivity, they turned out to be pretty low doses per cookie; thus, we were able to eat a few cookies each person.
However, these vegan cannabis cookies are excellent at home, in a secure environment, ideally with a buddy to watch over you! It takes about an hour for the impact to begin and 3-4 hours for it to wear off, and it remains in your system for approximately 72 hours after that. All things considered, these vegan cannabutter cookies are a GREAT time and great tasting on their own!
I made cannabis cookies with the Unicorn Poop souche from the GG4 Cannabis Store, but I'm curious to know if other strains would work just as well. If you want to see my video of the baking process, it's down below. And be sure to check out Katarina's video on vegan cannabutter while you're at it!
Ingrédients
For the Cannabutter
.32 g buds marijuana strain of choice (I used 14% THC 1%CBD Tangerine Dream)
50 g refined coconut oil
For the cookies
1 tbsp ground flax meal
4 tbsp warm water
150 g Earth Balance (vegan butter)
50 g cannabutter
150 g brown sugar
150 g white sugar
1 tsp vanilla extract
1 tsp sunflower lecithin (or 2 tsp soy lecithin granules)
1 tsp baking powder
1/2 tsp baking soda
350 g all purpose flour
1/2 tsp kosher salt
3/4 cup vegan mini chocolate chips
Optional: 1 tbsp fleur de sel
Instructions
To Make the Cannabutter
Preheat oven to 245F.
Grind .32 g marijuana and spread out on a parchment paper lined baking sheet.
Toast ground marijuana in oven for 30 min.
Remove the food from oven and place it in a pot with 50 g of coconut oil. Cook over low heat, ensuring that the oil does not go above 200F. Let infuse for 3-7 hours. ( aim for about 6 hours, but at least cook it for 3).
Remove the cheesecloth or fine mesh sieve and discard the solids. Allow cannabutter to solidify at room temperature (or you may speed up this process by placing it in the fridge).
For the cookies
To make the flax egg, combine flax meal and warm water in a small bowl. Mix well and let gel for about 5 minutes.
Using an electric beater or stand mixer, beat Earth Balance vegan butter, cannabutter, brown sugar and white sugar until pale and fluffy (about 4-5 mins). Add vanilla extract, flax egg, and sunflower lecithin. Beat for another 3-4 minutes while scraping down the sides to ensure that everything is evenly incorporated. The mixture should now be very light and fluffy
In a mixing bowl, combine the flour, baking powder, baking soda, and kosher salt. Stir in the chocolate chips until almost all combined.
Spoon the filling into your prepared cake. Using a spatula, fold everything together to mix in any remaining flour and distribute the chocolate chips evenly.
To make about 32 cookies, use a 1.5 Tbsp cookie scoop. If desired, add a sprinkle of fleur de sel to each dough ball before baking for extra crunch. You may freeze the dough balls before baking for better control over spreading.
Remove from oven and let cool for 1 minute after baking, then remove from baking sheet and place on a wire rack to finish cooling.
Enjoy!