Vaping cannabis is becoming increasingly popular, with stoners all over the world discovering its numerous advantages. However, it might be complicated without assistance. That's why we've put up this novice's guide to vaping marijuana.
Just because you're not interested in a certain cannabis product, doesn't mean you should write it off entirely. Vaping dabs and dry herb are still popular methods of consuming cannabis, so don't close the door on them before you've at least learned about them.
Let us help you figure out everything you need to know. Learn about the advantages of cannabis vaping, the many types of vapes, and how to get a head start on finding the ideal vape for your needs. There's a lot more to vaping than meets the eye; discover what's best for you.
Getting started with vaping cannabis
What is vaping?
We've all seen people smoking, in which they burn material so that they may breathe the smoke. Vaping is a method of consuming herbs or oils without using fire. Vaping instead generates vapor by heating up your substance until it forms a vapor that you can breathe.
What are the benefits of vaping cannabis?
Vaping has a plethora of benefits as compared to other methods of consuming cannabis. For those looking for a healthier way to get haut or simply want more subtlety, vaping is the ideal choice.
1) Vaping reduces the amount of carcinogens in your cannabis
Cannabis has a long history of use as both medicine and sacrament, but smoking a plant is still smoking a plant. Adding tobacco to the equation is especially egregious if your primary method of smoking is a blunt. Vaping, on the other hand, does not produce smoke; instead, you are simply breathing in vapor. While there's always a chance that a vape tank will include a carcinogen, it's significantly less dangerous than smoking cigarettes.
2) Vaping cannabis is discrete
The harsh truth of cannabis is that it smells like weed; no one wants to hide their marijuana in a hotel room. The fact that vaping releases so little odors is one of its greatest features. Again, there are exceptions to the rule, particularly if you're utilizing a dry herb vape.
However, if you're vaping concentrates you'll notice a wildly different level of odor. That's why weed vapes have become so popular as an everyday carry for stoners. You get weed, and the world is none the wiser.
3) Vaping offers a more stackable high
If you spark a joint or a bowl, you're going to probably finish it. Some people have the self-control to sip on a bowl or a joint all day. But for most smokers, the serving size is often what you pack. A weed vape opens the door to moderation because you don't have to worry about ashes or the small.
Instead, you may hit it again after 20 minutes, then wait another 20 minutes before taking a hit again. Instead of seeking satisfaction in a packed bowl or a joint quickly, you can take tiny doses of cannabis and work your way up to your ideal high on your own timetable. Seriously, try microdosing marijuana; you might never want to smoke normally again.
4) Affordability and flexibility is king
In addition to being widely available and affordable, another great thing about weed vapes is that they come in so many different varieties. Whether you're looking for a concentrate or cartridge, you'll be able to find something that fits your budget and meets your needs.
Want a cheap, disposable battery that won't break your heart if you lost it? You're covered. Do you long for a high-tech hookah that gets you so stoned you can touch stars? There are devices for you. From small and portable pocket vapes to giant coffee table centerpieces, the world of vaping is almost as vast as the cannabis industry itself.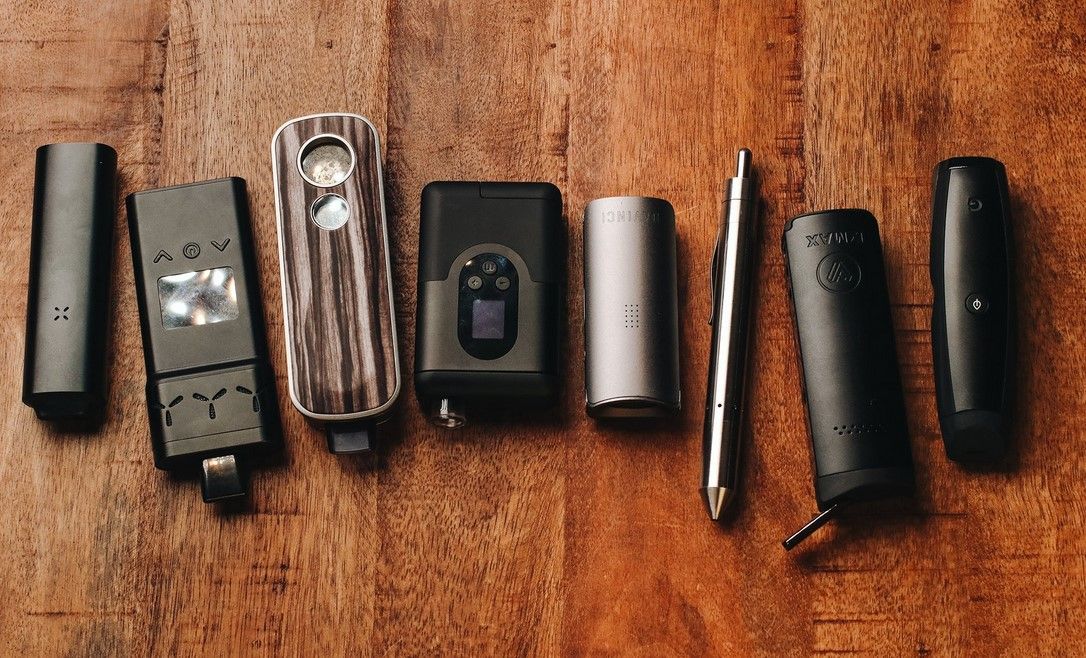 What are the different kinds of ways to vape cannabis?
At the end of the day, cannabis enthusiasts have three different types of vapes to choose from, each with its own perks and drawbacks. The kind you go for is entirely dependent on the sort of experience you're hoping to have.
Carts and batteries
Carts, or cartridges, are the most popular type of weed vape They come pre-packaged with .5 to 1 gram of oil and can be screwed into a 510 battery. The great thing about these batteries is that they have multiple functions.
They may also be used to vaporize essential oils, Delta 8 THC carts, loose concentrate tanks, and even conventional nicotine juice. The market for these batteries is incredibly broad. A simple cart battery may be purchased for as little as $20 online on the low end of the spectrum. However, you get what you pay for in this case too.,
More expensive, yet nicer batteries allow you a variety of voltages and options. With different voltages, you can use your vape cart to either create large vape clouds or smaller hits. Not only does this control the size of your vape clouds, but it also allows for deeper flavor with lower voltage hits.
If you're concerned about how to use a cart, don't be. In fact, utilizing one is quite simple. Simply take it out of the box and attach it to the top of whatever battery you choose. INhale while pressing the power button.))
Carts offer a broad selection of strong flavors and strains at different price points, and are less likely to produce the telltale weed smell.
Vaping CDB or THC oil is much more discrete than smoking prohibition-era cigarettes, and you can do it pretty much anywhere without getting weird looks. The only downside to vape carts is that they provide a cerebral high instead of a body high, which isn't ideal for those needing pain relief medication.
Portable E-dab rigs
Portable e-dabs for loose concentrates are dissimilar than carts since they're not restricted to utilizing a disposable cartridge full of cannabis oil or distillate. You load the device with your concentrate of preference and hit the power button when you want to use it. While carts and batteries tend to be portable, e-dab rigs come in many shapes and sizes.
There are small tanks that utilize the same battery cartridges as vapers, rechargeable pens, and even full-on e-dab rigs that turn your bong into a water-based vape machine. The only downside is dealing with loose concentrates.
If you're going on a long trip, make sure you have some loose concentrates with you. If you're taking a road trip, keep the loose concentrates cold. We propose using a loose concentrate vaporizer at home. Bring a beach chair and blanket with you.
Here's a brief rundown of the different concentrates on the market.
Shatter: The texture resembles that of hard candy. You may usually break shatter, making dosing small pieces straightforward, as the name implies.
Live Resin: This is one of the most expensive alternatives on the market. Live resin is a highly adhesive concentrate that keeps the flavor profile of cannabis. Each puff contains a variety of terpenes, which gives it a natural flavor similar to that of the flower used to make it.
Sugar: A type of concentrate that is easier to scoop than shatter, but can be a little messy because it has the texture of sticky sand.
Sauce: A viscous thick sauce, with a grainy texture. Can be very sticky.
Badder: Solidity Levels are a term used to describe the purity or strength of cannabis products. The higher the percentage, the more solid and harder it becomes, but this is also precisely what consumers want!
Crumble: Crumble is a soft, delicate wax that easily crumbles when touched.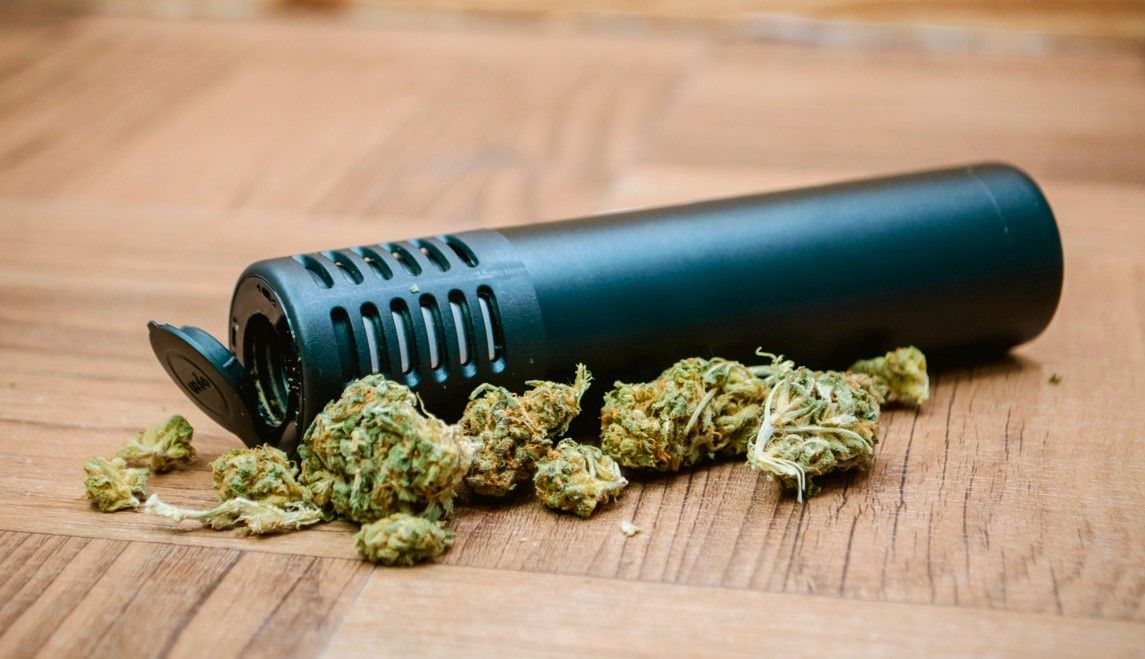 Vaping cannabis flower
Finally, we have dry herb vapes, which are the unsung heroes of the cannabis vaping world. For years, the image of dry herb vapes was a massive wooden box with a long plastic hose connected to it. Today's technology has advanced, but you can still discover those classic monsters if you search for them hard enough.
An lesser-known fact about cannabis is that you don't need to smoke it for the benefits. The THC in weed is activated before burning, so by heating it correctly, produce vapor gets you high. That's also how cooking cannabis activates its potency for cannabutter.
Be wary of dry herb vapes that are on the cheaper side; they have a greater chance of scorching your weed if you're not careful. Additionally, any type of weed vape will produce some sort of smell, but dry herb vapes tend to be the worst offenders in this department.
It's not as potent as smoking a joint, but the smell will be more pervasive than with other methods. This is especially important to keep in mind if you live in a state with stricter laws about cannabis usage. When heated, cannabis smells like…well, cannabis. So it's best to be aware of your surroundings and take necessary precautions if you don't want anyone catching wind of what you're up to.
What to consider when buying a weed vape?
Now that you know the basics, it's time to put your knowledge into action. Here are some things you need to consider before making a purchase.
What will you be vaping?
Decide what you want to vape before buying a device- this will tell you if you need a basic battery or something more complex.
Size
Portability is a crucial issue with vapes, especially if you're using loose extracts.
Trying to quit smoking cigarettes but loving the taste of flower? A dry herb pen will be your best friend. Or do you want to enjoy dabs without having to deal with high heat? An e-dab rig is an alternative for you. Lastly, if you need something that fits in your pocket and won't spill, carts are perfect for anyone on the go!
Power and battery
Keep in mind your future plans for the vape you're going to purchase. Are you going to be bringing it with you on long trips? If so, does it need to have a longer-lasting battery? Perhaps one that only needs to be charged once a night would work better. Also, every vape has different types of batteries– make sure the specifications fit what YOU need.
Durability and ease of cleaning
Carts are beloved for their simplicity. When you're done using it, you just get rid of the cart. If it leaks, no problemo–just clean with a q-tip and some rubbing alcohol .
Alternatively, our vape rigs are considerably more user-friendly and straightforward to take care of. With other vapes, you have to be cautious not to burn the dry herb. Our e-dab rigs come with heating elements that require periodic replacement. However, none of that is necessary with ours– all you need to do is make sure your mouthpiece stays unclogged. Also, some models in our collection feature glass parts– making them easier than ever before clean!
Whether you're clumsy or not should also be considered before buying an expensive vape. Many people are constantly misplacing their phone or dropping it, and those same individuals will drop their vape while under the influence.
If you want to spend money on a high-end vape, make sure to find one that is known for its durability.
Best Weed Vape Pens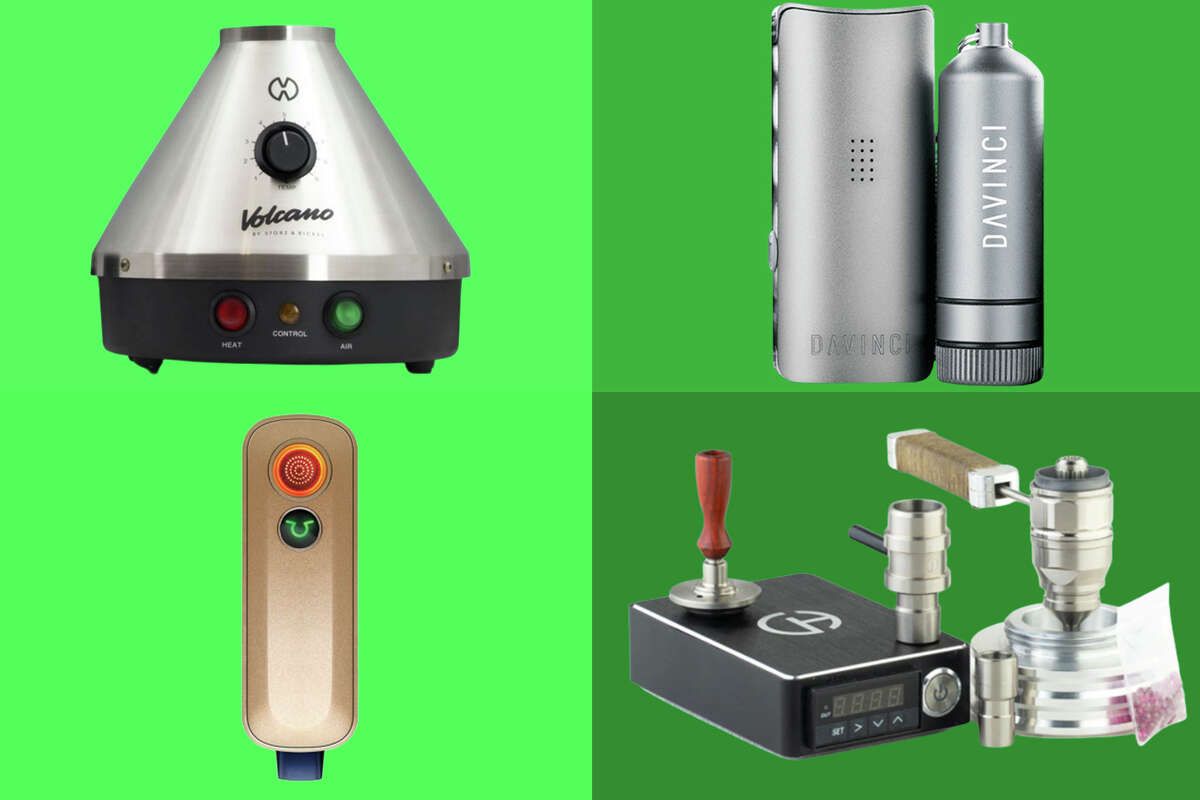 Yocan Evolve-D Gold 2020 Edition
While dry herb pens are more intricate than other types of vapes, the Yocan Evolve-D Vaporizer is a wallet-friendly flowerhead vape.
This wonder is ideal for on-the-go usage and looks exactly like a writing pen. Its magic really shines through during use, however. A pancake dual coil gently warms your flower with this system. From toke one until the session is finished, you'll get smooth, powerful hits thanks to this device's pancake dual coil.
The most attractive element, however, is the detachable heating element, which allows you to replace only one portion instead of the entire device when it burns out. For less than $40, you can enjoy a vape that is comparable to anything else on the market. That's a bargain.
Storz & Bickel Volcano Desktop
The Volcano vaporizer is not a portable vaporizer, but it is the gold standard for vaporizers. Or, perhaps, the platinum standard of vaporizers given its high price tag. The Volcano is known as a legendary vape for good reason; it produces better and more potent hits than any other product on the market. It uses less flower material than its dry herb vapes while still producing enough heat to fully extract all of the active ingredients in each bowl.
The Volcano vaporizes dry herbs to create a balloon of vape that lasts 50-100 uses. You can then attach a mouthpiece to the bag and share it with others or keep it for yourself, depending on the situation. If you need more balloons, they're only around $7 per pack.
The Volcano will revolutionize how you consume cannabis flower if money is no object.
G Pen Pro Vaporizer
You don't have to spend hundreds of dollars on a world-class dry herb vaporizer just to enjoy the experience, especially with the G Pen Pro. The G Pen Pro is known for its concentrate vapes, but it's also fantastic as a dry herb vape. Heating up in 20-30 seconds and offering three pre-set Temperatures, the G Pen Pro delivers simplicity and usefulness to flower vaping.
The G Pen Pro is a reasonable alternative at $59.99, with the same specs as Yocan's Dry Hit vape that we suggested above. For those interested in precise temperature control, this is still an outstanding pen. The G Pen Pro is our favorite because it may be used by anybody. Simply pick it up and take a hit; it's that easy.
Not only does its ceramic bowl do an excellent job of heating your plant matter evenly, but its sleek design is perfect for a day at the park too. We've used one similar to this in our personal life for two years now, and it still works just as perfectly as the day we got it– with no loss in battery life!
Pulsar GIGI Vaporizer
You don't have to spend a lot of money to get a quality cartridge vape battery. In fact, many affordable options on the market make these vapes worth exploring. But in our opinion, the Pulsar GIGI Vaporizer is the best budget 510 threading battery on the market.
Its two-inch tall design makes it perfect for palming subtly or just keeping in a pocket. Each device has a 500mAh battery, giving you long life that lasts days not hours. The Pulsar GIGI also comes in ten different colors for customization.
The one-touch auto-pilot is another useful feature. It releases a powerful first hit every time since it gradually warms up your cart, allowing for an effective first impact each and every time.
Honey Stick AeroBee Cartridge Vaporizer
Not only is the AeroBee's price tag affordable for high-end batteries, but it also offers precision and customization that vapers value. The battery life on this device is extremely long – 800 mAh between charges! And because of its 510 threading, it will work with any type of cart from any dispensary.
The temperature display and heating options are great features. You can now pick your own temperature, instead of using pre-set heating settings. The company doesn't mind whether you're in America or Australia as long as you have Fahrenheit and Celsius versions.
The AeroBee is extremely durable, with aerospace aluminum and magnetic threading connections. In a tiny palm-sized package, there are all of these features? Before you travel to space, the AeroBee will make you feel like a scientist.
Ooze Duplex Dual Extract Vaporizer
With so many excellent vaporizers on the market, determining the finest overall bargain may be difficult. However, no one offers the Duplex Dual Extract Vaporizer's combination of price and features. That's because it comes equipped with a 510 threaded cartridge or loose concentrates.
That's correct, this kit includes a 510 threaded quartz dual wax tank and 1ml glass oil thank you. These allow you to mix and vape your own concentrates. The world glass cartridge battery and dab pen are included in one package. Did we mention how wonderful the battery is?
The Duplex has a forever-lasting 1000 mAh battery, making it perfect for those who love camping. What's more, it has four voltage options that allow you to tailor your experience without having to remember specific temperatures. It strike the perfect balance between being easy-to-use and advanced–perfect for someone who usually uses carts but wants branch out into other types of concentrates.
Boundless Terp Pen Vaporizer
Terp pens are one of the coolest evolutions in vaping concentrates in recent memory. Low-profile, affordable, yet wildly effective, terp pens are a stoner's dream. In our eyes, the Boundless Terp Pen is the dream you should make a reality.
Simply load a small amount of concentrate into the pen's ceramic coil, replace the cap, and inhale to activate the heating mechanism. With a handy magnetic cap and compact design, this is a concentrate vaporizer for people on the go.
You might think at such a low price this device isn't well built. You'd be wrong. Its medical-grade steel construction makes cleaning without damaging anything simple. And if that isn't enough to sway you there's the 3-year user warranty.
PAX 3 Vaporizer
The PAX 3 is for sophisticated vapers who want a luxurious experience with the option of vaping not just concentrates but also dry herbs. The PAX line began as a hyper portable dry herb vape device, but the PAX 3 improves upon that with an incredible concentrate functionality.
The PAX 3 is a dry herb vaporizer that costs $199.95, with a $50 kit to convert it into a concentrate pen as well. The complete collection is $249. You're undoubtedly wondering why we'd pick this one of the greatest pens for concentrates on the market, and here's your answer: because it's simply one of the best!
Dabs with the PAX 3 are enjoyable, flavorful, and never scorched. Its tiny size and inconspicuous appearance make it ideal for use in a variety of settings, from a beach excursion to transporting in your carry-on luggage.
We just have one piece of advice: be sure to purchase the complete kit or the dab attachment. Otherwise, you'll be left with a bitter taste in your mouth after purchasing just one of the greatest dry herb pens on the market.